SCI-FI ADVENTURE AND HORROR THRILLER NOW AVAILABLE AS DM-BOOKS!
Filsinger Publishing has released two exciting new stories as e-books through partner company Dark Menace Productions.
The first is "Champions of the Galaxy," a dramatic story of intergalactic warfare and personal betrayal. You'll meet the heroic Star Warrior, his edgy friend Thantos, and stunning vixen, SuperNova. These three will try to defend Cetus from a military attack by evil general Krakan and his time travel companion Ghengis Khan! Part 1 comes packaged with a printable card game so you can play the action that takes place in the story!
There's also "Flesh and Blood" by writer Kris Osk. The story features a dramatic combination of vampires and zombies! Fellgard has been invaded by vampires and the Wardens of the Keep must spring to action! But when newcomers from afar arrive on the scene they bring with them a different type of curse. You won't want to miss it! Part 1 comes packaged with an awesome audio track so you can hear the blood-curdling horror!
Go to the official Web site for Dark Menace Productions for a free preview of these releases and info on how to order!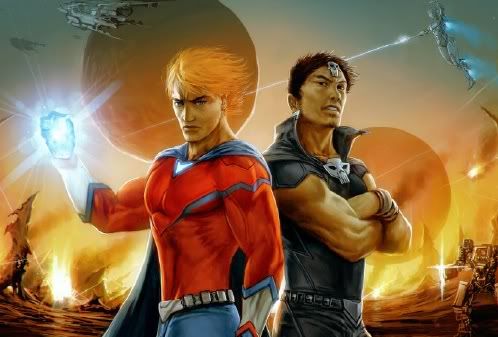 Star Warrior and Thantos prepare for the Battle for Cetus
in Part 1 of Champions of the Galaxy epic!
NEW COUNTDOWN CALENDAR IS RELEASED!
The second calendar in Filsinger Publishing's "Countdown to the Big Day" line is here with the release of "Countdown to Baby's Due Date." The calendar is written by Dr. Thomas J. Andrews and Dr. Gregory A. Andrews and is a fantastic gift for expectant mothers and fathers!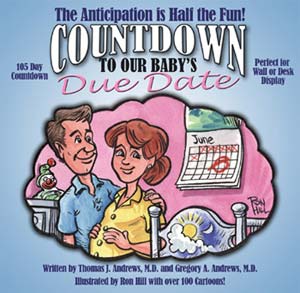 Each day in the 105-day countdown features some interesting facts about the developing baby as well as a joke-a-day to bring some laughs and much-needed stress relief for expectant moms and dads! There's also a place for personal notes making "Countdown to Baby's Due Date" a great keepsake to treasure forever. The calendar IS NOT date specific, so it can be used by anyone at any time.
Priced at only $9.95, the new countdown calendar is a perfect gift and it joins the successful "Countdown to Our Wedding Day" in the retail market.
Retailers, sales reps, and distributors should contact Filsinger Publishing for more information on "Countdown to the Big Day" calendars. Keep watching for news on where the calendars are sold!
STAN LEE'S "ELECTION DAZE" NOW AVAILABLE AS E-BOOK!
The humor book that's taking the nation by storm is now available as an eBook! This cool updated version features BONUS MATERIAL including the indomitable Sarah Palin!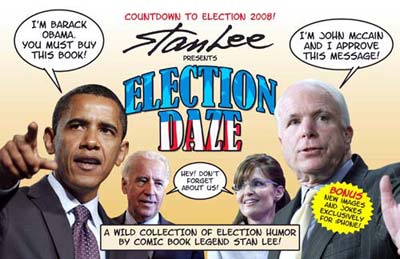 "It's been a real kick to spin our best-selling "Election Daze" into this cool new format," enthused Lee. "And, hey, being able to read it on your computer means you'll never have an excuse for missing any of the latest and greatest gags!"
The eBook is available from Filsinger Publishing and is 60-pages with several new images and photos featuring John McCain, Barack Obama, and of course, Sarah Palin! The eBook costs a mere $3.95 and you'll love reading Stan Lee's wild gags on your computer! Order now!
Election 2008 belongs to Stan "The Man" Lee!
Be sure to pick up "Election Daze" in the print format and the eBook! Both versions have unique material.
To purchase the eBook version of "Election Daze" at our online store go here! You'll have instant access...the craziness awaits you!
STAN LEE TO APPEAR ON AUTHORS@GOOGLE ON JULY 2, 2008!
Stan Lee is scheduled to film a video in Santa Monica on July 2 for Authors@Google to promote his new book, "Election Daze."
The Authors@Google program brings authors to Google for informal talks centering on their recently published books. Past participants have ranged from novelist Martin Amis and Nobel-prizewinning economist Joseph Stiglitz to primatologist Jane Goodall and presidential candidate Barack Obama.
The presentations are filmed in front of a live audience and then are promoted on the Internet via Google Video and YouTube.
The presentation for "Election Daze" will take place on July 2. Stan Lee will be escorted by limousine along with publisher Tom Filsinger from Lee's Beverly Hills office to a studio in Santa Monica where the show will be produced. Stan Lee will describe the making of "Election Daze" in an exciting multimedia presentation featuring pages from the "Election Daze" book as well as a live contest for people in the studio audience!
Watch for news on the showings of this awesome event on YouTube! Then you'll be able to enjoy it too...as if you were there!
STAN LEE BOOK SIGNINGS FOR "ELECTION DAZE" - 2008
April 18-20: New York Comic Con at Jacob Javits Center.
April 19: New York City, Borders, 461 Park Ave., Midtown (At 57th St.).
May 4: Los Angeles Comic Book and Science Fiction Convention, Shrine Auditorium Expo Center.
May 10: Los Angeles, Barnes and Noble, 189 The Grove Dr.
May 31: Book Expo America at Los Angeles Convention Center.
July 15: West Hollywood, Book Soup, 8818 Sunset Blvd.
Aug 9: Los Angeles, Barnes & Noble, 10850 W. Pico Blvd.
Check back for more details or go to Election Daze campaign headquarters on MySpace!
"ELECTION DAZE" HITS NUMBER TWO ON HOT NEW RELEASES CHART!
Stan Lee and Filsinger Publishing have got a winner! "Election Daze" climbed to the Number Two spot for Hot New Releases in political humor at amazon.com on April 17! Stan Lee has joined other successful political humorists like Jon Stewart and Stephen Colbert. And now it's onward to Number One! Be sure to order your copy of "Election Daze" right away.