AN EXCITING NEW GIFT IDEA from FILSINGER PUBLISHING...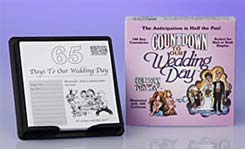 Our new "Countdown to the Big Day" countdown calendars make the perfect gifts for family and friends! The display is packaged like a desk/wall calendar and the bride and groom or expecting parents will love tearing off a page each day as they countdown to their wedding or baby's due date! Each page features a humorous reminder as well as a place to write personal notes for keepsake purposes!
NOW AVAILABLE: COUNTDOWN TO BABY'S DUE DATE!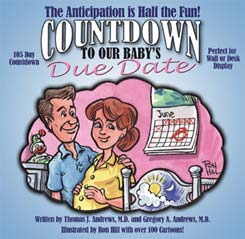 The next calendar in the Countdown line is here! "Countdown to Our Baby's Due Date" is a great gift idea for expecting moms and dads and for the right price at under $10. This calendar features day-to-day information about the baby's development written by Thomas Andrews, M.D. and Gregory Andrews, M.D. as well as some much-needed jokes and humor every day of the countdown!
HOW CAN I STOCK THESE CALENDARS IN MY STORE?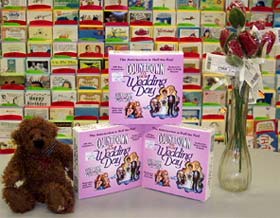 It's easy! We'd love to work with you. These calendars sell themselves since they're fantastic gifts and at a great low price!
Go here for information for retailers.
HOW CAN I EARN EXTRA INCOME SELLING THESE CALENDARS?
Just join the Filsinger Publishing Sales Team! You'll make some extra income selling our calendars to stores! And they're "easy-sell" items! After all, people are always looking for wedding and baby gifts! For more information about how to join our sales team go here!


HOW DID "COUNTDOWN TO THE BIG DAY" ORIGINATE?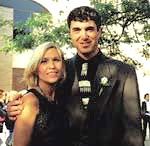 "Countdown to Our Wedding Day"
was actually "created" years ago when Tom Filsinger became engaged to his wife, Leslie. Tom scribbled a countdown on a pad of paper leading up the big wedding day. Each day featured a big headline like: 25 DAYS TILL OUR WEDDING DAY and Tom drew a humorous (at least he thought it was humorous!) cartoon each day. Leslie loved the idea and has kept the "original" countdown calendar as a keepsake. "Countdown to the Big Day" wasn't a business idea at first...it was truly a labor of love.
The calendar is a 100-day countdown to a couple's wedding day or 105-day countdown to baby's due date. Each day has five great features:
A headline that tells how many days are left till the wedding or baby's due date.
A reminder about some aspect of the wedding or about a newborn baby that people won't want to forget.
A humorous cartoon that relates to the reminder and relieves some stress as the big day approaches.
A space to write down "today's date."
A space to write down "my notes" about the day.
QUESTIONS AND ANSWERS ABOUT "COUNTDOWN TO THE BIG DAY"
1) Does the Calendar have real dates on it?
Answer: No, it's not time specific. It can be catered to ANYBODY'S wedding or ANY child's due date on ANY date. All you have to do is count back the days and write down the days and start the countdown! After that its easy---just tear off a page a day!
2) Can the Calendar be wall-mounted or stand up on a desk or table?
Answer: Both! The calendar is produced just like most desk calendars so it can be used either way.
3) Will there be other CountDown to the Big Day products?
Answer: Yes there will! There are already plans for COUNTDOWN TO GRADUATION. More ideas are being tossed around. If you can help us make "Countdown to Our Wedding Day" and "Countdown to Baby's Due Date" a success by selling it in your store(s), we'll be able to get to work on these other calendars!
HOW DO WE CONTACT YOU TO PLACE AN ORDER?
Call us at 888-275-8178 or write to us at:
Filsinger Publishing,
P.O. Box 3493,
Jamestown, New York, 14702.
"Can't wait to hear from you!"